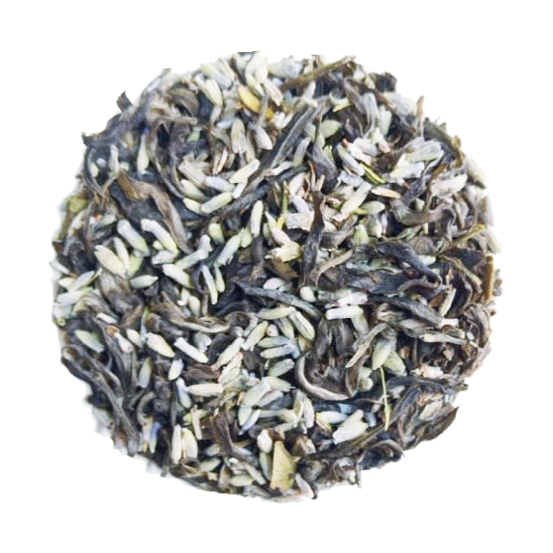 Green Tea-Blends
Lavender Green Tea
Special Price 245/ 50 gram
Consumed without milk, Honey or Sugar can be added as per your taste.
100% Natural Ingredients
No Artificial Flavors and Coloring
Membership Discount
Lavender is a holy herb with a delightful fragrance, commonly used to treat anxiety, stress, and insomnia. It is also used to help fight depression, dementia, to ease pain after surgery, to treat fungal skin infections, hair loss, and to enhance skin and beauty too. Lavender tea is a calming and relaxing beverage hence it is often used to treat symptoms of irritation or anxiety, as it relaxes the nervous system. Sipping on lavender tea can also assist in treating digestive issues such as vomiting, nausea, intestinal gas, upset stomach, and abdominal swelling. In addition to helping with digestive problems, lavender is used to help relieve pain from headaches, sprains, toothaches, and sores too. Lavender tea can also be effectively used as an after-wash rinse to prevent hair loss and improve hair health.
BENEFITS:
HELPS BUILD IMMUNITY: The antioxidant and antibacterial compounds present in Lavender Flower tea help defend against the common cold and flu. Being rich in nutrients like Vitamin C, calcium, and magnesium it supports a healthy immune system and hence makes it easier for the human body to fight off various infections.
ASSISTS IN INDUCING SLEEP: Lavender flower tea helps in the production of dopamine that controls the production of the stress hormone known as cortisol. The relaxing effects of lavender can help improve sleep and may be used to treat insomnia. The sweet floral scent assists with relaxing the restless mind and thus help to relieve stress. Lavender acts as a sedative and is truly beneficial for everyone suffering from sleep disorders.
GREAT HAIR CONDITIONER: Lavender tea helps prevent hair damage by reducing hair loss and scalp infection. It also acts as a good conditioner by making your hair look shinier later.
IMPROVES RESPIRATORY HEALTH: Lavender tea can help people who suffer from respiratory problems by improving their lung capacity. Lavender tea also relaxes sore muscles in the chest. The antibacterial and anti-inflammatory properties of lavender tea also help to eliminate bacteria that can cause chest colds and congestion.
PREVENTS ACNE AND SKIN AGING: Lavender tea promotes healthy skin and can be used to cure skin acne. It also acts as an anti-aging herb rich in anti-oxidants that can fix various skin problems by reducing the free radicals that further cause skin damage.
Green Tea, Lavender, Spearmint
For Loose Leaf

Water
Take 150 ML Water

Temperature
Boil the Water such that the Temperature is 80°C

Tea Leaves
Take 1 TSP or 2 GM of Tea Leaves

Time
Pour it into the Cup and Leave to Infuse for 3-4 Minutes

Serve
Filter Tea Leaves and Serve
For Tea Bag

Water
Take 150 ML Water

Temperature
Boil the Water such that the Temperature is 80°C

Teabag
Take 1 Teabag

Time
Pour Boiled Water into the Cup and Dip the Teabag to Infuse for 3-4 Minutes

Serve
Remove Teabag and Serve