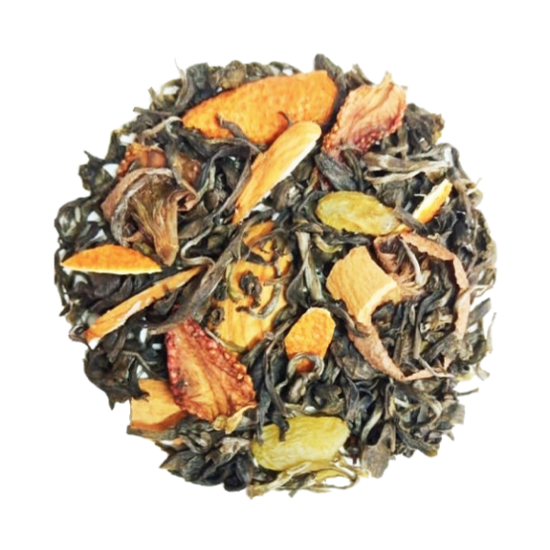 Green Tea-Blends
Emperor's Cocktail
Consumed without milk, Honey or Sugar can be added as per your taste.
100% Natural Ingredients
No Artificial Flavors and Coloring
Membership Discount
Intensely aromatic, this special blend greets you with sweet notes of strawberries and oranges that immediately announces itself as the drink of desire.
EMPERORS COCKTAIL is an irresistibly delicious, savoury yummy beverage with luscious fruits.
Green Tea, Orange Peel, Strawberries, Raisin, Green Apple, Kiwi, Almonds
For Loose Leaf

Water
Take 150 ML Water

Temperature
Boil the Water such that the Temperature is 80°C

Tea Leaves
Take 1 TSP or 2 GM of Tea Leaves

Time
Pour it into the Cup and Leave to Infuse for 3-4 Minutes

Serve
Filter Tea Leaves and Serve
For Tea Bag

Water
Take 150 ML Water

Temperature
Boil the Water such that the Temperature is 80°C

Teabag
Take 1 Teabag

Time
Pour Boiled Water into the Cup and Dip the Teabag to Infuse for 3-4 Minutes

Serve
Remove Teabag and Serve