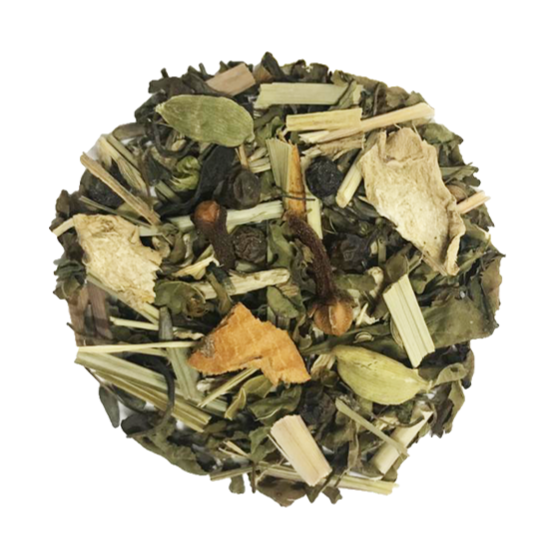 WELLNESS
Detoxifier
Special Price 255/ 50 gram
Consumed without milk, Honey or Sugar can be added as per your taste.
100% Natural Ingredients
No Artificial Flavors and Coloring
Membership Discount
Drastic change in eating habits let toxins enter the digestive system and upset normal functioning of the body, making you feel drained and exhausted all day through.
DETOXIFIER TEA is a herbal infusion prepared from the stimulating holy basil, organic green tea and milk thistle that are known to assist in detoxification by promoting healthy liver functioning. These ingredients work in synergy to make one feel alive and rejuvenated.
Green Tea, Dried Ginger, Holy Basil, Cloves, Black Pepper, Lemon grass, Cardamom, Cinnamon, Cumin Seeds, Bishop's Weed, Milk Thistle, Dandelion Roots
For Loose Leaf

Water
Take 150 ML Water

Temperature
Boil the Water such that the Temperature is 90°C

Tea Leaves
Take 1 TSP or 2 GM of Tea Leaves

Time
Pour it into the Cup and Leave to Infuse for 3-4 Minutes

Serve
Filter Tea Leaves and Serve
For Tea Bag

Water
Take 150 ML Water

Temperature
Boil the Water such that the Temperature is 90°C

Teabag
Take 1 teabag

Time
Pour it into the Cup and Dip the Tea Bag for 3-4 Minutes

Serve
Remove Teabag and Serve